1. The Riigikogu is the unicameral parliament of Estonia, composed of 101 seats, distributed among 12 districts. Estonia is divided into 12 electoral districts for the purpose of the Riigikogu elections.
2. In addition to approving legislation, the Riigikogu appoints high officials, including the Prime Minister and Chief Justice of the Supreme Court, and also elects the President.
3. Parliamentary elections in Estonia are scheduled for Sunday March 1st.
4. Early voting and i-voting started on 19 February and ended February 22 and 25 respectively.
5. Candidates from ten Estonian political parties and thirteen independent candidates, for a total of 876 candidates, were submitted to the National Elections Committee for the Riigikogu elections.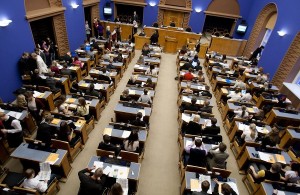 6. This is the eighth election in which Internet voting with binding results is available in Estonia.
7. Estonian Prime Minister Taavi Rõivas and President Toomas Hendrik Ilves were among the thousands of Estonian who cast their i-vote on February 19, the first day that it was possible to do so.
8. On February 25, the number of people who cast their votes online reached 176,491, according to the Estonian National Electoral Committee website.
9. According to statistics from the past five years, a third of voters cast their vote online. In the 2011 Riigikogu elections, 140,846 people i-voted.
10. Preliminary results will be available on Election Day, and the final official tabulation will be published on March 2 after a verification of results.
10 things you should know about the Riigikogu elections