For the next election of the Head of Government of Mexico City, on the 1st of July, the elections for the following Head of Government of Mexico City will take place.
A thousand electronic ballots will be installed for that purpose, and used to elect the candidate. Also, online voting will be authorized for people who live abroad.
This is Mexico City's second experience with electronic voting, after a first experience 6 years ago with only 40 ballots.
According to the managers' statements, the first experience was very positive and nearly 100% of citizens approved the process with electronic voting, a device that features a headset and that can be set up for different languages.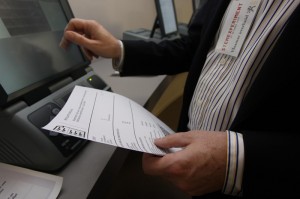 The main benefits when comparing with traditional ballots, are that electronic ballots give "immediate" results of the elections, are "economical" because there is no need for recruitment and training, "ecological", because they save paper, and their use is "simple and safe".
A thousand electronic ballots will be installed in Mexico to elect the Head of Government of Mexico City