Fernando Herrera, director chairman of the Instituto Estatal Electoral de Chihuahua, released the information that thanks to the use of electronic balloting, more than 1070 elections took place last year in that state.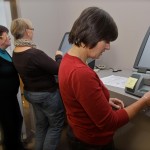 The elections took place mainly in schools to test the system; in primary and secondary schools, high schools and colleges, as well as in the student society of the Autonomous Faculty of Chihuahua.
Thanks to their good functioning, there is a chance the elections will take place with electronic balloting in the future, which will save paper, make the counting  more accurate and will remove all doubt when giving the results.
More than one thousand elections were conducted in Chihuahua with electronic balloting in 2011