The 2015 Estonian parliamentary elections were held on March 1st. For this event, the i-voting period was opened from February 19th until February 25th.  By 9:00 on the first day of i-voting, more than 54,000 people had already cast their vote. By the time the internet voting period was closed, a record number of 176,491 voters had used the internet voting platform to cast their votes.
Estonian Prime Minister Taavi Rõivas and President Toomas Hendrik Ilves were among the thousands of Estonian citizens who cast their votes on February 19th. After voting, President Toomas Hendrik Ilves posted on his Facebook page a pic with the message: I have already i-voted, what about you?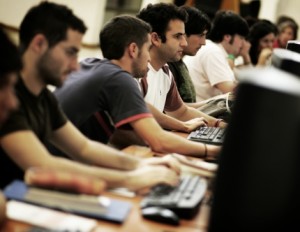 Prime Minister Rõivas cast his vote at around noon in the Stenbock House. He invited photographers to record the event.
Estonians i-voted for the first time during the local municipality elections in 2005, when 9,317 people used the system. At the 2007 Riigikogu elections 30,243 used internet voting. At the 2009 European Parliament elections, 58,669 citizens cast their votes online and during the 2009 local municipality elections 104,415 citizens did it.
After 2009, internet voting participation increased continuously. Statistics from the past five years show that a third of voters cast their votes with the help of an ID card.
Source: http://www.baltic-course.com/eng/legislation/?doc=102721
http://news.err.ee/v/elections/0fa79887-4fc9-4aa8-bde1-01b7fc4ebf6b
New I-voting record during Estonia's parliamentary elections