The Election Commission of Pakistan (ECP) has proposed using electronic voting with biometric technology for the next general elections in 2018.
After unveiling the new electoral system draft plan for the next five years, the ECP announced that they would also introduce electronic voting and carry out the delimitation of electoral districts using Geographic Information Systems (GIS).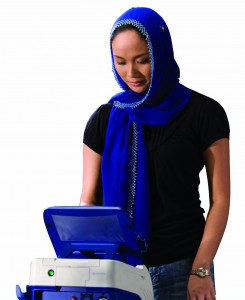 In the previous five-year strategic plan for the years 2010-2014, the ECP said that they would achieve 80 percent of their stated targets. These included setting up voter registries with photographs and national identification numbers for all registered voters, the use of magnetic ink to take voters' thumbprints and the launch of an 8300 SMS service to verify voters' polling places based on their addresses.
Source: : http://tribune.com.pk/story/701906/5-year-strategy-draft-ecp-proposes-electronic-voting-machines-for-next-general-elections/
Pakistani election commission pushes for electronic voting in next elections