A Smartmatic team had the wonderful privilege of taking part in the 2014 annual trade show Ziezo in Houten, the Netherlands. This 3-day event ran from April 10 to 12, was hosted by the Oogfonds, a Dutch organization dedicated to help people with visual disabilities dealing with a wide array of issues, from health insurance to exerting their fundamental rights.
As a company dedicated to move civilization forward with technology that has a profound social impact, we saw this gathering as an excellent opportunity to reach out this group of voters and to showcase the solutions we´ve created to help them voice their opinion.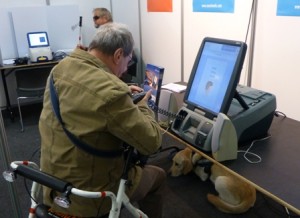 At Ziezo, our Smartmatic colleagues Matthijs Schippers, Juan Campodónico, and Peter van der Veldt, presented some of our voting machines and the devices we offer to assists voters with visual impairments cast ballots independently. They had the honor to be assisted by two blind volunteers, Jeroen Zwart and Marco Molenaar with his dog guide Laika.
In our stand, visitors completed a scientific survey created by researchers from the VU University of Amsterdam. The survey, consisting of four different multiple-choice questions, was hosted on our SAES-4300 equipped with an ABLE-D device. (ABLE D is one of our devices to facilitate voting in our machines).
Jeroen and Marco were crucial in greeting everyone and making visitors feel comfortable to test our demo system.
Our team also showed an audio accessible SAES-3376 prepared with a demo election for the most popular post-war politician in the Netherlands. We created this demo to inform voters how voting in the near future can be made accessible to everyone in the Netherlands.
It was very interesting to hear from these voters that the traditional voting method currently in use, the paper ballot and red pencil, is forcing this group of over 300,000 voters to vote by proxy or let a poll worker assist them in marking the ballot. They explained that this constraint is frustrating them to the point that they even don't bother to use their voting right and stay at home on Election Day.
Some 50 voters participated in the SAES-4300 hosted survey and another estimated 100 visitors shared information with us and discussed their experience voting with the SAES-3376. They were enthusiastic about our technology and the possibilities it offers to millions around the world.
More than 40 visitors asked Smartmatic to keep them informed on future developments and volunteered to participate in a test group to support Smartmatic's R&D efforts to further introduce accessible voting the Netherlands.
Commenting on his participation in the event, Matthijs Schippers, VP Sales Western Europe for Smartmatic said, "Talking and working together with the visual impaired community was a rewarding experience that gave true meaning to one of our mantras "Technology to serve all".
Smartmatic brings technology to serve all to Houten