"What must be clear is that the Venezuelan election process provides every guarantee that is needed to cast a vote. Everything is very well organized. It's a solid and robust process." Those were the words of Leonel Fernández, leader of the UNASUR observation mission, when referring to the e- voting system used during the December 6th Venezuelan parliamentary elections.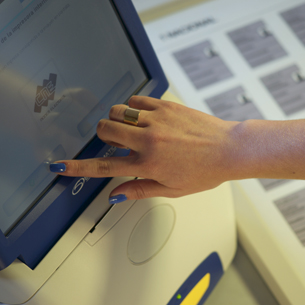 As in the previous 14 national elections, Venezuelans headed to the polls to vote using e-voting technology developed by Smartmatic, the world leader in election technology and services.
The system guaranteed the security, accuracy and auditability throughout the various stages of the election. It encompassed the biometric authentication of voters, voting, results transmission, tallying and the broadcasting of results.
Throughout the election the system creates a paper audit trail. Each voter gets a printed copy of the vote; and as results are computed, physical copies of the count reports are created. The existence of a paper and an electronic trail is key to build trust. By comparing electronic results to the paper trail any inconsistency becomes obvious.
In addition to the paper trail, a series of audits were conducted to let everyone involved in the election know that the system was working properly. A total of 13 audits were conducted. No issuers were raised in any of these tests.
These types of safeguards contributed to the acceptance of results immediately after the National Election Council announced them.
The chief of the observation mission for the Council of Latin American Electoral Experts (CEELA), Nicanor Moscoso, backed up Venezuelan voting automation by stating that the country has the best "voting system in America because it guarantees full supervision and trust".
A leader in voting automation, just like countries such as Estonia, the Philippines and India, Venezuela once more had a successful voting process where results were delivered without any discrepancies. A historic turnout of more than 15 million voters (74.2%) in parliamentary elections was reached.
This is why Smartmatic's CEO and founder Antonio Mugica considered that "our technology helps in the delivery of results that are accepted by all sides of the political debate. The winner is and is always going to be the citizens' will".
E-voting guaranteed transparency in Venezuelan Elections