Nowadays, Estonia has the most advanced Internet voting system in the world. Estonians, including their president and other authorities of the small nation of 1.3 million people, spent just two minutes voting during the recent European parliament elections.
Voters did not need to put on their coats and walk to the nearest voting center; they simply had to register on a special app using their national identity card to then cast their ballot online. The president of Estonia Toomas Hendrik Ilves declared, "I voted electronically."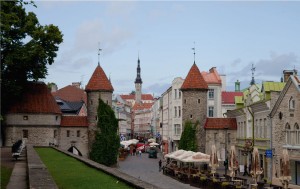 "Not only is this comfortable, but above all, it is a vote of confidence in one of the best IT systems in the world. It is a vote of confidence for the Estonian State."
Following the example of their president, eight percent of the electorate had cast their ballots online by Tuesday afternoon.
Estonia introduced Internet voting in 2005, and it is the only country where I-voting is legally binding and has been used in national elections.
Source: http://blogs.wsj.com/brussels/2014/05/20/estonians-go-to-the-polls-by-staying-at-home/
Estonia leads Europe in Internet voting