Over 300 thousand Ecuadorians, registered to vote in the province of Santo Domingo de los Tsáchilas, were able to cast their ballot efficiently, and transparently this past weekend.
The National Electoral Council (CNE), Ecuador's highest electoral body, decided to conduct a legally binding voting pilot during the country's sectional elections  in Santo Domingo using electoral technology, designed, manufactured and deployed by Smartmatic, the world leader in electoral automation.
A mere 60 minutes after the polls had closed  in Santo Domingo de los Tsáchilas, the CNE was able to announce official results with  99 % of the electoral data transmitted, a landmark in the nation's electoral history.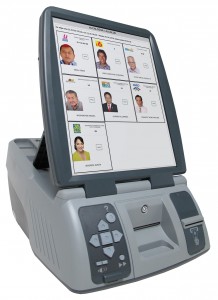 Although Ecuador tried several technologies, it was only in Santo Domingo de las Tsáchilas where a 100% verifiable e-voting system was tested. Smartmatic's technology allowed the recording and tallying of the votes, while at the same time offered physical copies that were later used to validate the results.
Transparency, accuracy, speed, and resource efficiency were some of the advantages offered by Smartmatic's voting technology. Even though this was the first time the voters in the region cast their votes electronically, the touch sensitive screens and the user-friendly interface made the process very simple.
In addition to its technology, Smartmatic offered a suite of integrated services to guarantee the success of this e-voting pilot. These services included: the operation of a support centre; the configuration of the voting machines; the definition, planning and execution of a training plan for both the electorate and the polling staff; the preparation, use and redeployment of the e-voting kits, among others.
Smartmatic's electoral technology makes history in Ecuador