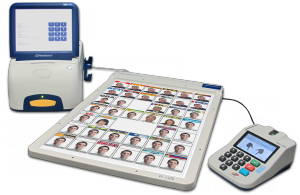 Last Sunday, October 7th, Venezuelans elected Hugo Chávez to remain leading the nation for the next presidential term, 2013-2019.
Smartmatic deployed an all-encompassing electoral solution that included hardware, software and managed services, distributing 39,018 voting machines -among 13,810 polling centers-, each of which attached to an electronic ballot and a biometric fingerprint reader. The biometric devices complementing Venezuela's state-of–the-art auditable voting system, were used to activate the voting machines upon identifying and validating the voters, thus enforcing the "one voter, one vote" principle.
Smartmatic also provided various unique and customized software solutions that helped configure the election and all related components, monitor the process on Election Day, and consolidate and publish the results. Beyond the technology, the multinational company furnished complimentary operational and logistic services.
With the announcement of the winner, Venezuela completed the first end-to-end automated national election in the world. Such accomplishment is the result of a firm directive to provide the means to conduct electoral processes leading to legitimate results. As technology has been incorporated in all phases of the electoral cycle, human error and discretion have been eliminated, increasing transparency, accuracy, and efficiency.
In spite of a highly polarized electorate, after an intensive Election Day official results were ready to be announced only minutes after the last poll closed (in Venezuela polling centers have to remain open, if voters are still in line). Shortly after the announcement was made, Henrique Capriles conceded the defeat and congratulated Hugo Chávez.  One of the main reasons for such a seamless process was the fact that, previous to Election Day, the Consejo Nacional Electoral of Venezuela conducted over 17 audits and test drills to the different elements of the voting platform. During those activities, all parties involved participated and certified the proper functioning of the system. As has been customary in Venezuela, voting machines printed receipts that allowed voters, auditors and political parties to check one by one the validity of digital results by counting the paper trails.
The 2012 Venezuelan Presidential election was yet another clear example of why Jimmy Carter, Co-Chair of the US Commission on Federal Election Reform, and Founder of the Carter Center stated recently "As a matter of fact, of the 92 elections that we've monitored, I would say the election process in Venezuela is the best in the world".
Venezuela leads the way in electoral best practices worldwide