Yemen is set to join the list of countries automating their electoral processes. In the upcoming September elections, the country will use biometric identification for voters.
During tests carried out by the authorities of the African nation, 210 students in schools in Raneah Al-Adwiah and Baghdad took on the role of voters.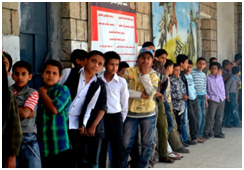 According to comments by Mohammed al-Hakimi, the director of the Commission for Referendums and Elections, voter data was entered into a computer and a photo was taken of the person along with their ten fingerprints. The system makes use of scanners, digital cameras, and fingerprint recognition devices.
Biometric technology allows the exact identification of voters before the act of voting takes place, minimizing the risk of identity theft. Supporters of this advanced technology in Yemen say that this will make the process more efficient and will eliminate the risk of fraud.
Yemen embraces election automation