Throughout history, and as technology has evolved, election commissions around the world have integrated technology-based solutions to strengthen citizen participation through more reliable, transparent and secure voting.
The first voting machine, which had a mechanical lever, was patented in 1892 by Jacob H. Myers Rochester, NY. This technology, later renamed as Mayers, was meant to speed up the vote count and reduce the possibility of a miscount. The first county to process votes this way was Lockport, NY, in 1895.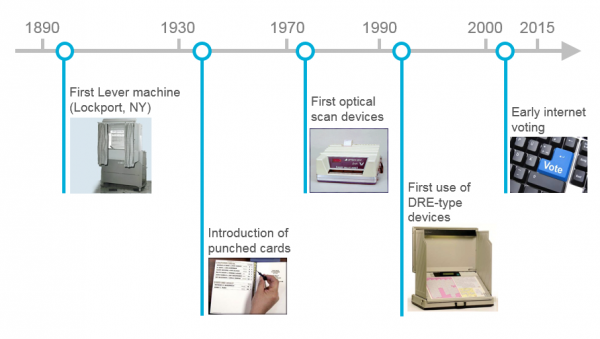 1930: The use of punch cards
This is a mechanism where votes are recorded on a card using a small device, the size of a hole punch. Voters make holes on the cards to mark their choices with the device supplied by the poll station workers. The two most used cards were the votomatic and the datavote systems. The use of this system generated a controversy in 2000 during the Presidential Elections between George W. Bush and Al Gore in the state of Florida.
1970: Optical scanners
The first optical scanner voting system was used in 1970. Scanners were used to read the paper ballots marked by votes and tally results. Today, the system is used in countries like the Philippines, Russia, the United States, Canada and Mongolia.
1991: Electronic voting
Electronic voting machines directly record the voter's choices through different interfaces. In some countries, touch-screen machines are used while others employ machines with number pads. Belgium, India and Brazil are among the pioneers of this technology. In order to add transparency to the election, some machines include a printer that generates voting vouchers, and logs for the different stages of the process. Venezuela was the first country worldwide to use machines that printed vouchers during a national election.
2005: Internet voting and the Estonian experience
Ever since Internet use became popular in the 90's, election commissions have looked for ways to harness the benefits it offers. However, concerns regarding its security, transparency, privacy and cost have worked as barriers to its implementation.
In 2005, Estonia became the first country to conduct a national election in which citizens had the option to vote online. Since, it has conducted 8 elections with great success. With just a computer, a smartcard reader, an identity card and a pin number, citizens can vote from any corner of the planet.
Smartmatic, through the Smartmatic-Cybernetica Centre of Excellence for Internet Voting, is currently working to offer the Estonian system to all election commissions worldwide.
The history of election technology