In the Argentinean province of Salta, one hundred percent of the population is expected to vote electronically in the upcoming elections of October and November 2013.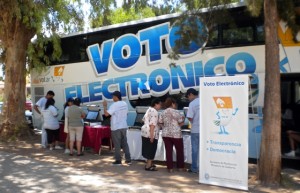 The province government has sent out mobile units to go through the whole territory teaching voters how to use this new technology.
According to General Coordinator of Regional Policies Guillermo Lopez Mirau, training citizens for electronic voting is an essential step to guarantee citizen and politic sovereignty as well as transparency.
Training for electronic voting in Salta (Argentina)